Integration Services
Integration/Automation of Home & Building Systems for More Safety, Enjoyment, and Value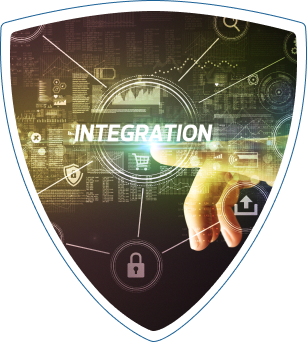 Home and building automation systems aren't about technology, but about how it can make your life simpler, and better.
Whether it's the convenience of turning on your lights with your voice, optimizing your HVAC use for a smaller carbon footprint, or security system integration, tailored building and home automation systems deliver wide ranging benefits.
Integration is the Key
Between the Internet of Things (IoT) and mobile access, you can have more control over equipment, from more places than ever before. When you integrate them all with a reliable home or building automation system, the payoff is even better.
Robust, Proven Technology
The benefits you get from automation are only as good as the technology behind it. In addition to the components of your system, you need to know that they are all well connected and protected from cyber attack.
Control Everything from One Place
Central control for your automation system is smart. And that central point is wherever you are in the world with an internet connection. Wherever you use it, it must be intuitive, full-featured and future-ready to expand as your options do.
Tailored Planning, Design, Execution
After reliable technology, the value and utilization of your system relies on how well suited it is for your requirements and goals. And that starts with effective system planning, design and execution. Which is what New Age Group's Building and Home automation team does for you.
Worry-Free Monitoring, Maintenance & Management Plans
Protect your integrated system with New Age Group's comprehensive Monitoring, Maintenance & Management Plan. You get remote monitoring, on-site and remote maintenance, actionable management reporting, and more, for your entire system.
Custom Home Integration
You can call it a smart home, a connected home, or an automated home. Whatever you call it, it is where you live. So the technology must serve you reliably, easily and impressively.
1
Lights, Air Quality, Shades, Home Entertainment, Home Security
What do you want to integrate? From integrated home theatres to integrated security, the more you connect, the more opportunities you have to benefit from your system.
2
Increase Comfort & Convenience
Connected HVAC means your indoor air quality will be better, and more to your liking, without you doing a thing. And that's just your HVAC system.
3
Lower Costs, Maintenance & Repairs
Home integration optimizes the use of all the equipment connected to it. That lowers energy costs, extends it's lifespan and reduces maintenance and repair costs.
Custom Building Integration
If you own, design, manage or occupy a commercial building, system integration is important to you. The resulting cost savings and occupant satisfaction are invaluable.
Make Your Building a Better Place to Be
An integrated building is safer and healthier, with more conveniences. It all adds up to instill more confidence in your occupants, get higher productivity from the people who work for them, and improve the value of the property.
Leverage Proactive Management
A connected building means greater visibility into systems usage. You can identify issues before they become problems, and even predict when issues will arise. So you can take preventative action instead of dealing with disruption.
Lower Costs, Increase Income
Integrated buildings are more efficient with energy and equipment use. That lowers your equipment maintenance, repair and replacement costs. And the added benefits your occupants enjoy means less tenant turnover and potentially higher income.